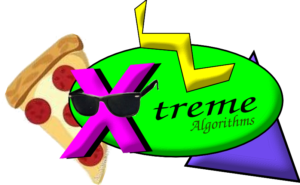 The ASARG group hosts a weekly research seminar each semester called Xtreme Algorithms. This is the best place to see what we're up to and get involved. The seminar is designed to be inviting for new researchers and curious students. We share short talks based on our research, and we have a lot of workshop sessions to push into other areas.
Occasionally, there's even food! Games may also follow. Please come and see if you'd like to get involved.
Current Meeting Times: Thursdays at 2:00 p.m., room EIEAB 2.208.
23 Fall Semester
9/14 – Kickoff meeting with a discussion on CRNs.
9/21 – Christian Narcia discussing ML research on IntelliBeeHive.
9/28 – Ryan Knobel discussing Fractals in TA.
10/5 – Dr. Ayati's student presenting summer bioinformatics research.
10/12 – Eric Rodriguez presenting on drone motion planning with Dr. Qi.
10/19 – Sergio Valdez presenting data mining work with Dr. Zhang.
10/26 – Dr. Gao's student presenting.
2023 Spring Semester
2/9 – Introduction to simple TA problems
2/16 – Optimal Small Lines in seeded TA.
2/23 – Dr. Li Zhang presenting research.
3/2 – Andrew Rodriguez discussing Pikmin hardness
3/9 – Andrew Rodriguez talking on simulating staged self-assembly with TA.
3/16 – Spring Break
3/23 – Gadget framework
3/30 – Gadget framework
Games
2022 Fall Semester
9/15 – Andrew Rodriguez sharing work from JCDCG3 2022 on Pikmin sub-level games.
9/22 – Michael Alaniz introducing Tile Automata with some challenge problems.
9/29 – Amit Das will present bioinformatic results from analyzing molecular biology data from diabetic hearts.
10/6 – Grad students posing some introductory Tile Automata problems related to lines and patterns.
10/13 – More Tile Automata work with patterns.
10/20 – Robot swarm foraging with Dr. Qi Lu.
10/27 – 3SAT reductions with Luigi's Mansion.
11/3 – Chemical Reaction Network reachability.
11/10 – Surface Chemical Reaction Networks.
11/17 – Brainstorming problems for Hack Research.
12/1 – Playing games for the end of the semester.
2020 Spring Semester
1/23 – Tim Gomez presents work shown at SODA 2020.
1/30 – Some open problems related to covert computation
2/6 – Working on some game reductions
2/13 – Overview of posters for eweek
2/20 – Working on some game reductions
2019 Fall Semester
8/29 – Angel Cantu is presenting the work that he will present at JCDCG3 next week.
9/4 – Austin Luchsinger and Timothy Gomez presenting open problems in discrete tile self-assembly
9/11 – Probabilistic Assembly of 1 x n lines
9/18 – Presentation of Simulator by Frank Gonzalez and Mason Garza
9/25 – Formula for Single line probability
10/2 – Workshop for multiple lines
10/9 – Simulator update forum
10/16 – Simulator updates and expected results for multiple lines
We continued meeting without updating the website
2019 Spring Semester
1/23 – Austin Luchsinger will present the talk that he gave at the  ACM-SIAM Symposium on Discrete Algorithms (SODA 2019) on January 9th.
1/31 – Tim Gomez will present an overview of some of the single step complexity results the research group has been working on.
2/7 – Michael Alaniz and Eden Canales will cover some results from a recent paper on sorting polyominoes. The paper is here, and there's an overview video here as well.
2/14 – Michael and Eden continue the discussion of sorting polyominoes.
2/21 – Open problem posing session.
2/28 – Updates on open problems
3/7 – Here are links to the papers the group will be presenting at the next Xtreme Algorithms meeting. paper1, paper2.
3/14 – Spring Break
3/21 – A special presentation by Dr. Ken Schweller on his work related to interactive and virtual world simulations with Bonobos.
3/28 – Open problem session
4/4 – Tim Gomez on Binary Counter in Full-Tilt with 1x1s
4/11 – Tim Gomez on PSPACE-Completeness of the Full Tilt Occupancy Problem
4/18 – Some open problems were presented and workshopped
2018 Fall Semester
9/6 – First meeting, welcome and overview of ASARG and research/software
9/13 – Angel Cantu on work done for his Engaged scholarship
9/20 – Austin on game complexity results for Nonads from a recent conference.
9/27 – Tim Gomez on external robot motion planning with hardness for relocation in 2 and 3 directions
10/4 – Bryan Guerra and Angel Cantu discuss pattern building in full-tilt with k colors.
10/11 – Austin on showing Tile Automata with sticky transition rules can simulate general Tile Automata.
10/18 – Austin presenting some biologically and privacy motivated self-assembly research about covert computation.
10/25 – Angel presenting some work in the step model.
11/1 – A workshop day based on logic and arithmetic in the full tilt model.
11/8 – Austin covering Becker's universal constructor in the single step tilt model.
11/15 – Some ideas related to replication and other student projects.
11/22 – Thanksgiving! no meeting.
11/29 – Open problems for Hack Research.
12/6 – Last meeting of the semester. Games!